Hawks Preferred Supplier: Cleves
INTRODUCTION

The Halifax Hawks are once again pleased that we are carrying on with our exclusive supplier relationship with 'Cleve's Source for Sports'. This supplier relationship results from a formal tendering process where the Halifax Hawks solicited bids from various suppliers with the winning bidder, Cleve's, becoming our 'Preferred Supplier'.

Establishing partnerships with companies of this calibre is a sound strategic decision for the Hawks organization as we are now able to leverage our collective purchasing power to benefit the entire organization in addition to gaining favourable pricing for our members.

Additionally, the Hawks are striving to bring a consistent look and appearance to the apparel and uniforms that our teams wear. In the past, teams have acquired a variety of apparel styles and we are looking to have the Hawk brand become more consistent and recognizable.

As part of our agreement, we are now able to access discounts for team purchases, individual point of sale discounts, a Hawks shopping weekend, and organizational rebates based on overall Hawk purchases.

This supplier relationship is an excellent opportunity to maximize the full purchasing power of our entire Hawks organization for the benefits of individual members, teams and the organization.

PRODUCT LINES

Through our agreement with Cleve's, we have access to numerous team apparel requirements which include track suits, winter coats, hats, toques, hoodies and soft shell jackets. These same items are also available to individual members. Our coaches may acquire teaching aids and supplies at very good pricing including pucks, pylons, water bottles, coaches' boards, water bottle carriers, and whistles. In addition, we have access to discounts on equipment such as gloves, pants, helmets and sticks.

TEAM ORDERS

Team Orders/Individual Orders - may be placed directly online https://halifaxhawks.itemorder.com/shop/home/ (prices for the online store have already been discounted to team pricing).

Team Orders may also be placed throught he Cleve's Team sale office in Burnside or via email using the HAWKS team order form Simply complete the order form and email the information to :

Rose Boutilier at Cleve's at teamsales@cleves.ca or at (902) 468-6520 Extension 226.

Etransfers are also available for team payments (onlinesales@cleves.ca). Please notify Rose if you plan to send an etransfer.

Individual Orders are availabl online with team pricing.

Cleves Bayers Lake (regular retail hours) will have the new Bauer sizing samples available however they will not be excepting your orders. Either order online or email Rose.

Cleves Team Sales Office in Burnside will have all sizing and product samples available.
Office Hours are 8a-5p Monday - Friday however evening hours are available with some notice. Contact Rose Boutilier at Cleve's at teamsales@cleves.ca or at (902) 468-6520 Extension 226.

The online store will be open until October 26, with your orders being placed at that time.
Estimated delivery will be the week of November 16th.

The 2nd online store will be open from October 26 - November 9 with extimated delivery the week of December 14th (just in time for Christmas).

You may choose which Cleves store you would like to pick your order up at and you will be notified once that order is ready.

In addition to the items listed in the Cleve's Team Product Catalogue, the team packages include the following opportunities:
Name Bars (2 sets) - $4.50 per bar - Delivery 1 week

Each team receives free prizes for auctions and other fund raising.

Please email marketing@cleves.ca and allow 3 weeks notice
On orders of 13 individual or more, other discounts include:
45% off Bauer apparel

25% off Bauer equipment

15% off Bauer sticks and undergarments

COACHES ORDERS

Coaches' orders will be delivered within two weeks.

Coaches' Order Form

VIP CARDS/ OVER THE COUNTER DISCOUNTS

All players, executive and coaching staff members from the Halifax Hawks will receive a VIP Hockey Card that entitles them to 10% off the regular and sale price on all hockey products as well as hockey training products including skates, sticks, equipment, tape, laces, accesories, on-ice and training apparel, training footwear, and hockey lifestyle apparel. This 10% discount may not be combined with other discount offers, ie team sales, coup.
Simply present this card (or have it downloaded on your phone) at Cleve's and you will receive the stated discount at the point of sale.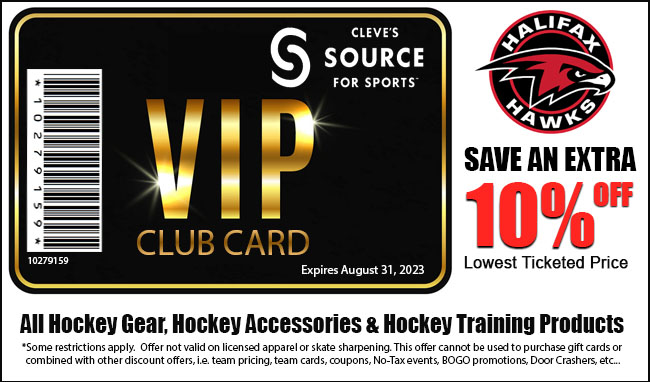 USE OF LOGO and MERCHANDISE POLICY

The Halifax Hawks Minor Hockey Association logo may NOT be used without the express written consent of The Halifax Hawks Minor Hockey Association. This includes the Halifax Hawks Minor Hockey Association name or any other reference to the Association.

The scope of this policy is to control the use and dissemination of the Halifax Hawks Minor Hockey Association's logo and to ensure a standardized supply of material to our Association's teams, tournaments and members. This policy will be governed by the Halifax Hawks Minor Hockey Association's Board of Directors and adhere to the following limitations and rules:
Teams, tournaments and Association members must use our approved supplier if the item being purchased is branded with the official Halifax Hawks Minor Hockey Association's logo.

Teams, tournaments hosted the Halifax Hawks Minor Hockey Association, and Association members must use discretion in ordering apparel and must act accordingly to preserve the image of the Halifax Hawks Minor Hockey Association.

Teams are NOT permitted to take the Halifax Hawks Minor Hockey Association's logo to any other vendor for the purpose of ordering apparel.

Failure by teams to comply with the policy may result in suspension or expulsion of the Head Coach, as the appointed representative of the team.